No matter how small your retail or food and beverages (F&B) business is, you need an Employee Management System (EMS) to organise and streamline your workforce better. In today's tech-driven era, it's essential to utilise technology to improve productivity and organisation.
In Malaysia, consider StaffAny, an EMS that offers HRD solutions, including the management of employees across multiple outlets. StaffAny can also help integrate business operations with Human Resources Department (HRD) tasks with ease!
Before we let you in on what StaffAny's workforce management system can do for your hourly workforce, let's work on understanding EMS and why it's important to invest in such automation software for your business.
Definition of Employee Management
Employee management is the process employers do to ensure that the employees are performing well to achieve the company's business goals. The method includes monitoring employee performance and building good relationships with the employees.
What Is an Employee Management System?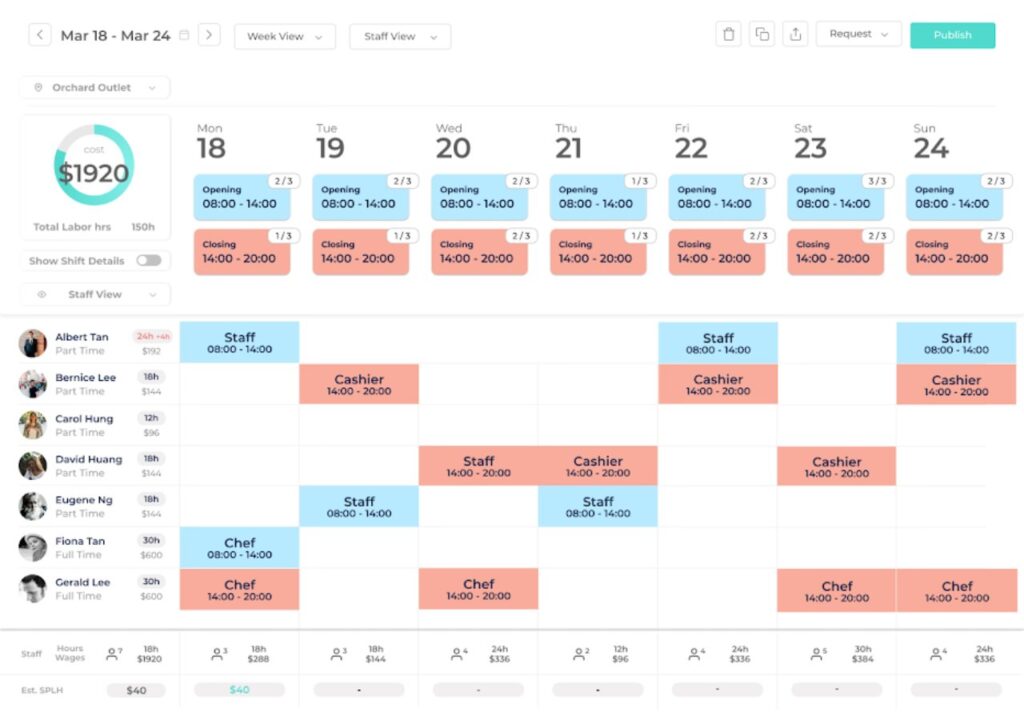 An employee management system (EMS) is a software application or set of tools businesses use to manage and organise employee information, tasks, and activities. EMS can include many features, from tracking employee time and attendance, managing payroll and benefits, to performance evaluations and training.
Why Is It Important to Have an Employee Management System?
Here are the benefits of applying the best employee management system for your company:
1. Maximising the Benefits of an Employee Management System
Maximise the benefits of an Employee Management System (EMS) for your business. EMS centralises and streamlines employee management, enabling easy tracking of crucial information and improved organisation. By reducing errors and simplifying tasks, EMS improves efficiency in managing a growing workforce, making it a valuable tool for businesses.
2. Dive Deeper into Employee Data
Gain valuable insights into employee productivity and performance with an Employee Management System (EMS). This system supports informed decision making regarding staffing and training, and may also provide information about legal and regulatory requirements for employee information, such as payroll and benefits, ensuring your company's compliance with government or local regulations.
3. Fostering Sense of Teamwork
Another benefit of an EMS is enhanced communication and collaboration within your business. Many EMS offer tools for document sharing, messaging, and other forms of communication, promoting informed and engaged employees. By fostering a sense of teamwork, EMS improves collaboration and helps drive business success.
4. Reduce Overall Cost and Streamline Operations
Lastly, EMS can help you reduce costs and streamline operations. Compared to manual records and paperwork, EMS is more cost-effective and saves time by automating tasks such as scheduling, payroll, and benefits administration. Embrace technology to improve efficiency and achieve greater success for your business.
Read more: HR Management Softwares, Privilege or Necessity
Getting to Know StaffAny
Now that you've understood EMS better, what better way to start your digital journey than with StaffAny? StaffAny's time tools connect your business operations and HR seamlessly with our scheduling system, timeclock, smart timesheets, and reporting all in one place.
Consider StaffAny as your assistant in workforce management for your business. It is time to do away with time-consuming manual spreadsheets, shift scheduling errors, computation errors and unsynchronized timesheets. Your business can do so much more when you operate at your highest optimal productivity. Let's explore how StaffAny can help manage your workforce efficiently:
1. Scheduling System
Staff scheduling is the most vital part of retail and F&B businesses. StaffAny's auto-scheduling tool allows you to check your staff's real-time availability, easily assign them to the shift, and visualise staff's schedule across multiple outlets in a single view. With real-time updates, your team gets the latest schedule and StaffAny automatically updates the staff schedule and highlights conflicts. This greatly reduces human error which often occurs with manual scheduling.
2. Onsite Timeclock
If you're looking to reduce poor synchronisation and communication between Ops and HR, look no further than our Onsite Timeclock. Time and attendance is done through staff's mobile devices, through our latest cloud clock in technology. With Geofence and QR, GPS or Wifi for secure clock-in, you can track time easily and accurately. StaffAny's smart time attendance system tracks actual working hours only. Smart matching, auto-clock out and unauthorised clock-in are prevented, thus allowing you to stop time-theft, and make HR and payroll processing a breeze.
3. Leave Application
StaffAny's agile leave management features auto-adds to leave balances as employees gradually complete months with the company. Any entitlements and carry-forwards are calculated upon yearly completion. Your employee can apply for their leave through their smartphones, and managers can similarly approve on-the-go. With flexible and customisable leave management, you can also gain better transparency, clarity, and visibility on your staff's leave information while reducing manual calculations of leaves.
4. Smart Timesheets
Say goodbye to manual consolidation. Your best laid schedules often do not materialise as planned on the actual day. Chances are, you will need to extend someone's shift or deduct someone's hours on the actual day or week. Our smart timesheet is designed to embrace changes on the ground. Overtime calculations, work performance and the anomalies are also automated and flagged out for your attention. Clock-in records from different outlets are consolidated together for your payroll administration, eliminating payslip discrepancies.
More than just these features, StaffAny's software includes generating real-time reports that allows you to verify timesheets and generate payslips on time without having to rely on managers to manually calculate it, as well as a free Applicant Tracking System that makes it easier for you to streamline your hiring process!
Ready to kickstart your EMS process with StaffAny? Contact us through WhatsApp to schedule a demo, or try our Start-Up Plan to explore and experience the platform.