THE BEST EMPLOYEE SCHEDULING SYSTEM IN MALAYSIA
Our deepest condolences to spreadsheet scheduling
We've launched people to the moon, and have self-driving cars on the road. Why does your business have to continue struggling with tools of the past? Plan and manage your employee rosters faster and easier. StaffAny's Employee Scheduling System helps you plan schedules with better cost control, faster speed, on the go!
Familiar, But More Powerful
Real Time Availabilities​
With a connected workforce, know who is on leave, and which of your part timers are available before planning for your A-team roster schedule in a familiar interface. Employees can also utilize our priority scheduling on a first come first serve basis based on real time availability.
Schedule Your Staff In One Click
We understand that speed and accuracy is everything. Just by clicking on the shifts, you instantly assigned your staff to the shift roster. Staff scheduling has never been easier.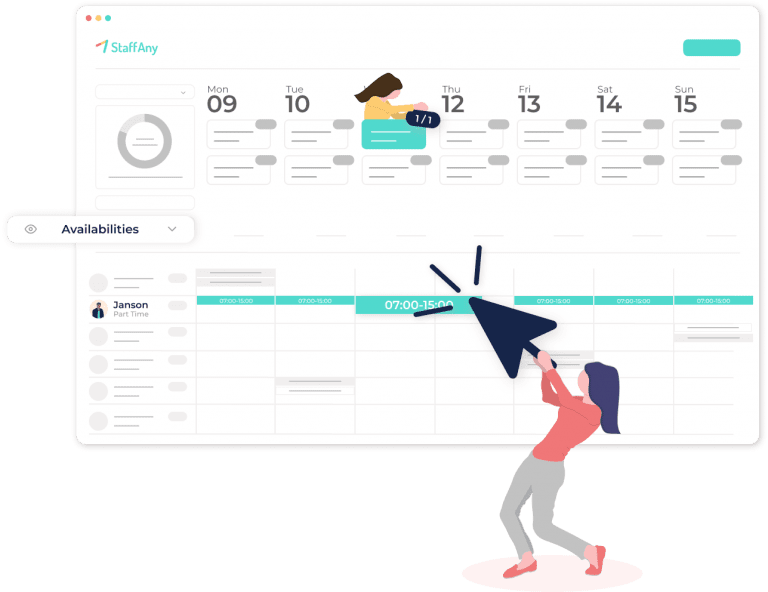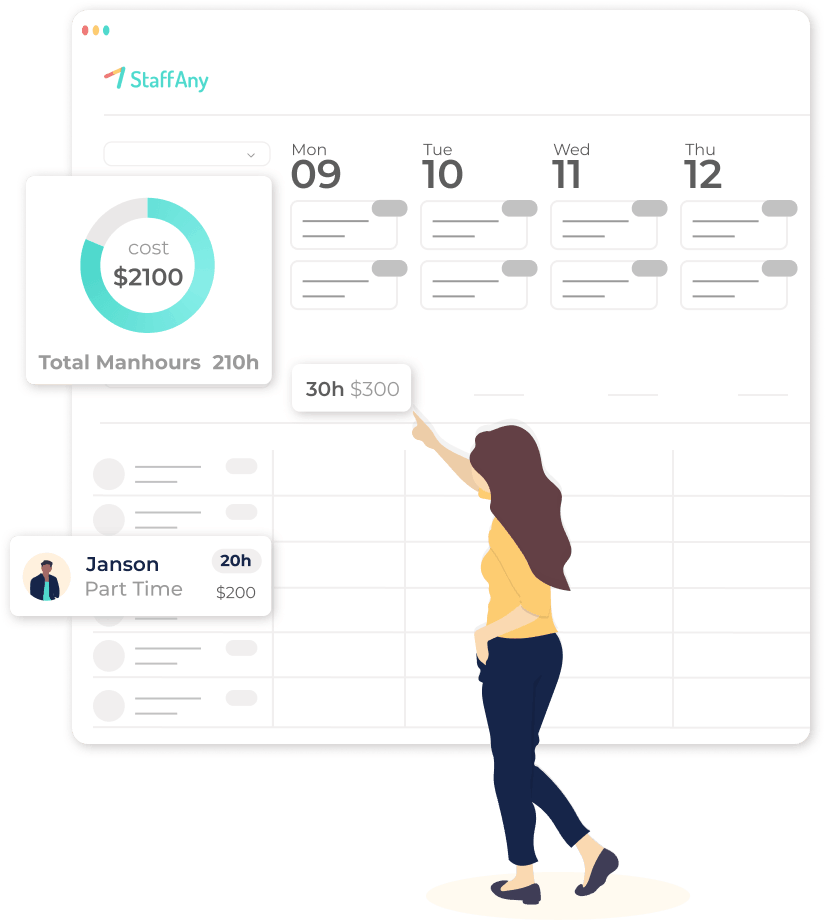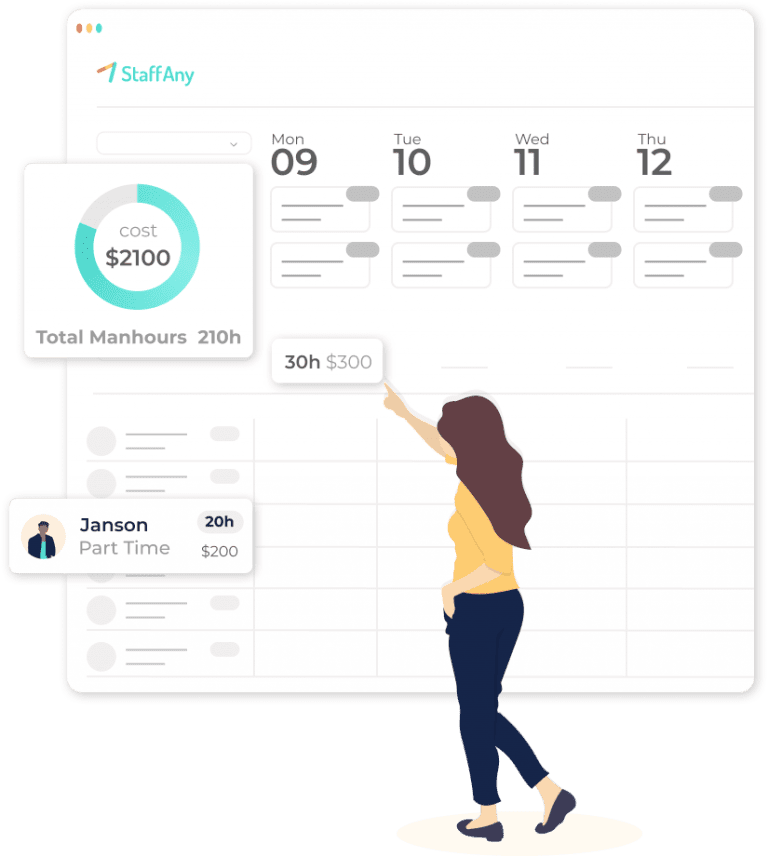 For Managers Who Want Better Cost Control
Get Better Visibility of Labour Costs While Scheduling
Our budgeting automatically updates you of weekly labor costs based on your schedule. Take control of your actual labor costs to optimise and achieve your target manpower budget. Lower your operating cost to increase your take home profits.
Stay in Compliance With Labour Laws
Manage overtime and hours to stay in compliance with labour hours requirements. Get visibility over staff real schedule hours across outlets and periods.
Whether It's One, Or A Hundred Outlets, We've Got Your Back
Reduce Roster Scheduling Error
Visualize staff's roster schedule across multiple outlets in one view. Manage employees across different outlets easily as StaffAny highlights clashing shifts for you. We help you to avoid errors and overlaps in staff scheduling.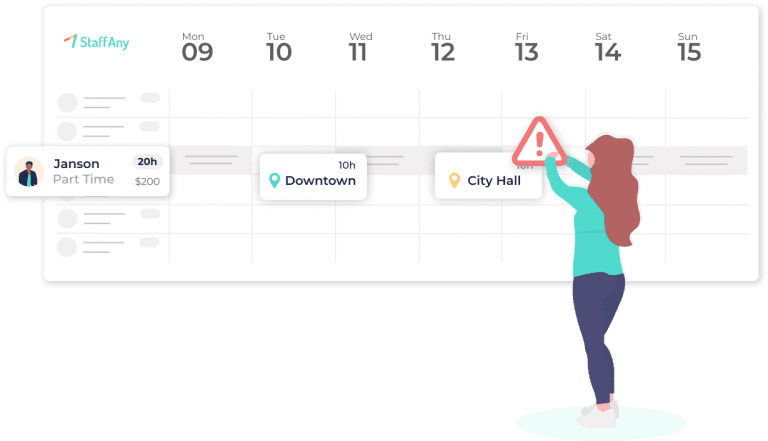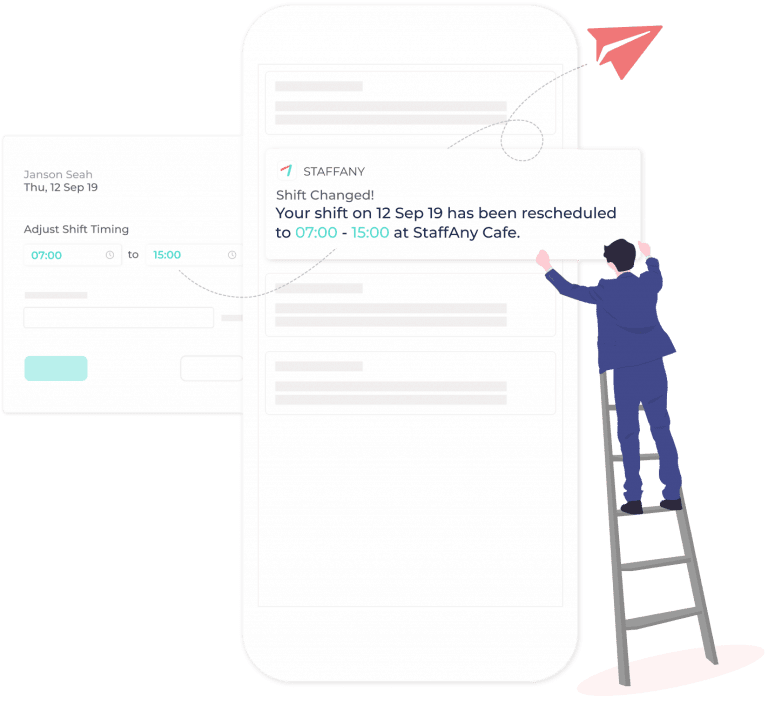 Real Time Schedule Update
Let us help you communicate schedule changes. Your team gets the latest schedule and StaffAny automatically updates the staff schedule and highlights conflicts.
The app makes the planning of my weekly schedule so much more convenient and faster. Informing my staff about their schedule is also just done by a click of a button!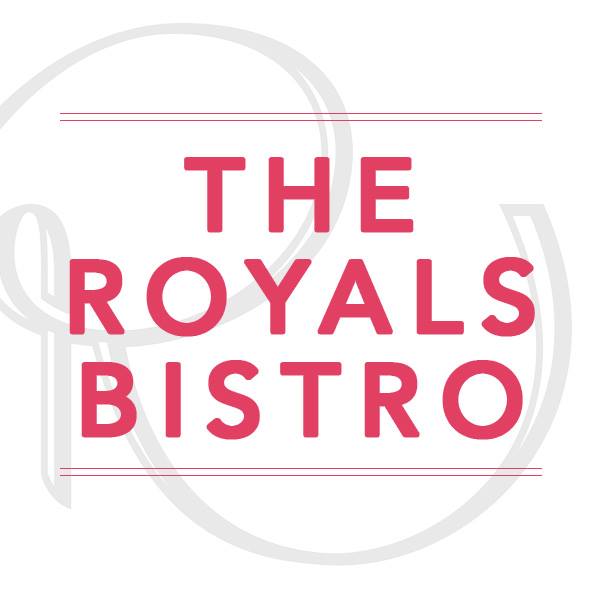 Jasmine, Owner
The Royals Bistro
Say bye to manual scheduling, forever!
Frequently Asked Questions
A staff scheduling software automates the process of scheduling your employees. As compared to the traditional paper or excel system, a cloud-based rostering software like StaffAny allows you to plan your employees' schedule quickly, conveniently and with better cost control using an intuitive and user-friendly interface.
A proper schedule management software is key to great service delivery and customer satisfaction. Ensure your business is running at peak efficiency with a flexible shift scheduling app that allows you to see your staff availabilities in a single view, schedule your staff in real time, automatically send timely reminders to your staff prior to their shifts, track employee performance and lateness, and manage your full-time and part-time employees any time, anywhere.
Whether you have a small restaurant with a single roster or an enterprise-level chain that requires multiple rosters, the right scheduling software can help streamline your HR and operations efficiency by ensuring all your scheduling requirements are met seamlessly and automatically.
Key features of StaffAny scheduling software:
Online scheduling
Breaks and overtime scheduling
Employee availability
Late employee alerts
Automated reminders prior to shifts
Employee performance tracking
Early clock-in and late clock-out prevention
Leave application
Multiple outlet scheduling
Are there any differences between a roster management system, roster planning software, scheduling software, scheduling mobile app, shift work scheduling app, employee scheduling system and staff scheduling tool? While the terminology may differ, they serve the same purpose — saving you time by automating your schedule planning requirements.
Looking for the best employee scheduling system? Speak with our product specialists to explore the right online scheduling system for your business!
Find yourself spending too much time building and disseminating your staff roster? An employee scheduling app helps your business by decreasing the time it takes to create and update employee schedules every week. With the right scheduling software, you can improve your business by making your scheduling process much more efficient and planning your schedules with much better cost control.
With StaffAny's online rostering system, you have an instant view of employees who are available for shifts and can schedule your staff in a single click. You can also get better visibility of labour costs while scheduling, as our budgeting feature automatically updates you of weekly labour costs based on your schedule. Our rostering software also helps you reduce scheduling errors by allowing you to visualise your staff's schedule across multiple outlets in one view. Manage employees across different outlets easily as StaffAny's scheduling system highlights clashing shifts for you. Our scheduling software can even help you communicate scheduling changes, so your team gets the latest schedule every time.
Looking for the best employee scheduling software? Speak with our product specialists to explore the right shift work scheduling app for your business!
Finding the right employee scheduling software for your business can be a daunting task. To find out what works for you, here are some aspects to consider before choosing your staff rostering app.
Automation
A major benefit of a scheduling software is that it automates many time-consuming tasks involved in rostering. To run your business as efficiently as possible, it is therefore essential to automate as many aspects of your scheduling process as possible. Look for a scheduling software that helps you save precious time by automating manual processes like capturing availability, assigning shifts and disseminating updated staff schedules.
Instead of a cumbersome process filled with text messages and phone calls, our automatic scheduling software reclaims hours of effort devoted to building the employee work schedule. Reduce the time you spend creating employee shift schedules by 80% with our employee scheduling system, and channel those hours into managing more important aspects of your business, all with the right staff rostering software.
Customised to your needs
One of the most important parts of a shift planning software is that it does what you need it to do, and more. A customisable shift scheduling software ensures that every aspect of the staff schedule planner accommodates your needs. For example, do you work in a restaurant that requires flexible shift scheduling? Do your retail employees often come to you with requests for last-minute shift changes? Are you a restaurant or retail owner looking to scale your business? If so, ensure that your rostering tool is flexible and able to adapt to your priorities as your business grows.
Tailor your shift scheduling app to your needs with StaffAny, which provides convenience, functionality and extensive features for all your scheduling requirements. Check all employee's availability in one convenient view. Assign your staff with a few simple clicks. Automatically inform them of schedule changes. Get more control over time-off requests. Experience an all-in-one staff scheduling software that is built for your business.
Ease of use
Ease of use is a key aspect to keep in mind when looking for the best scheduling software for you. To ensure your employees and managers are able to quickly learn and adopt the staff scheduling tool effectively, it is important that you spend some time finding out if the software will work for you and your team.
To understand how our scheduling software works, book a session with one of our StaffAny product specialists, who will bring you through our staff scheduling software and share more about how an employee rostering system will benefit your business. Our intuitive employee rostering software is well-loved by users spanning across many industries, from restaurants to retail outlets, as it emphasises simplicity and functionality to ensure the staff scheduling system is perfectly utilised. Our customer success team is also on-hand at all times to ensure any issues you face on our staff scheduling app are resolved swiftly.
Looking for the best staff scheduling system? Speak with our product specialists to explore the right employee scheduling software for your business!
The best scheduling software is the one that helps you save the most time and labour costs. By using StaffAny's staff rostering system, you can save hours every week and conveniently create your online staff schedule in minutes. Our automated scheduling software allows you to build your schedule on your mobile device or your desktop, and gives you greater visibility of your labour costs through our budgeting feature. With our StaffAny scheduling software, you can also ensure that your budget targets are on track, and that your business is operating efficiently.
Looking for the best employee scheduling app? Speak with our product specialists to explore the right online scheduling system for your business!
Depending on the needs of your business, employee scheduling softwares can vary greatly in price. Our staff scheduling system annual plans range from SGD29 to SGD99 per roster, offering a wide range of features tailored to your employee scheduling system needs.
Looking for the best staff rostering software? Speak with our product specialists to explore the right online rostering system for your business!